---
Features
Leading the way in Chile's recovery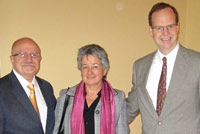 Dr. Padrón with María Teresa Marshall Infante, executive director of the Council of University Presidents of Chile, and Paul Simons, U.S. Ambassador to Chile
MDC President Dr. Eduardo J. Padrón traveled to Chile recently to lead a delegation of several university presidents as they assessed the damage caused by the devastating earthquake earlier this year. Measured at a magnitude of 8.8, the earthquake was the strongest affecting Chile since 1960, when the Valdivia earthquake was registered as the strongest to have ever been measured.
The delegation was organized by the American Council on Education (ACE), where Padrón serves as the vice chair and chair-elect.
During the week-long visit, the MDC president, along with officials from Duke, Tulane, the University of Montana and the University of Texas, traveled from Santiago to Concepción to Talca to witness recovery efforts.
The group focused on assessing the needs in Chile's centers of higher education and prepared a report on its findings and recommendations for the ACE and U.S. Department of State. In the Bío-Bío region, they visited the Center for Oceanic Research at the University of Concepción and the University of Bío-Bío. They also traveled to the Maule region, near where the epicenter of the earthquake hit, to inspect universities that were badly damaged.
To discuss the best methods the U.S. college and university community can use to aid Chilean higher education, the delegation met with the U.S. Ambassador to Chile, Paul Simons; the Fulbright Commission; and members of the Chilean Ministry of Education, including María Teresa Marshall Infante, executive director of the Council of University Presidents of Chile. They also discussed business, technology and innovations in Chile's higher education system.
Recently, Padrón has participated in major delegations to India and China. He and U.S. Under Secretary of Education Martha Kanter were tapped by the Obama Administration to join Dr. Jill Biden in representing the United States at UNESCO's World Conference on Higher Education last fall. During the Bush Administration, Padrón was chosen to lead a major delegation to South America with former Secretary of Education Margaret Spellings and Secretary of State Condoleezza Rice.
— NM
More Features Articles