---
Features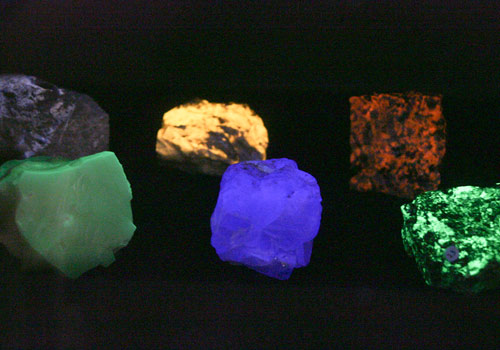 Hidden gem attracts students by the busload
Ever see a professor carrying a briefcase so heavy you wondered if it contained rocks? If you're looking at the load lugged around by associate instructor Diane McKinney, chances are it's actually full of stones.
In fact, McKinney, who oversees the Earth Science Museum and Demonstration Center at Kendall Campus, not only regularly hauls such a load, she also encourages visitors to bring their own bags packed to the brim. The museum, better known as "Kendall Rocks," is a tribute to one of the earth's most abundant substances.
"If you think about it, rocks make up our world. What we're standing and sitting and living on are rocks, and we need to know the origins of those things," McKinney says.
Labor of love
Although the museum was officially established in 2004, the collection had been in the works for decades. More than 30 years ago, when McKinney was still a student at MDC, her geology professor, Loren D. Wicks, was collecting rocks from all over the world. Whenever Wicks traveled with his wife, both brought along an extra suitcase, and they filled them with specimens from Hawaii, the Swiss Alps and countries all over Europe.
Before he passed away in 1987, Wicks asked McKinney to share the collection with the community. Since then, it's grown to more than 10,000 pieces. A tiger shark fossil from Key Largo, a dried piece of lava with Wick's footprint implanted in it and a whale tooth from Chesapeake Bay are just some of the samples that make Kendall Rocks one of the most unique places on campus.
Unlike most museums, where items are kept in glass cases and touching is prohibited, Kendall Rocks is a hands-on exhibit, making it a popular place for school field trips. Elementary and middle school students often visit for tours and demonstrations.
Making history
Among the favorite academic activities are fossil-making sessions, where students use dirt, sand and shells to create a sediment-like mixture. A week after it has been drying in the sun, the concoction turns into fossils, and each student takes home a  unique creation. Other activities include making crystals and testing rocks. For that, McKinney asks students to bring in rocks from their homes, in true Kendall Rocks tradition, so that they can test what kind of material their backyards contain.
"We use all kinds of rocks in everyday life. Your drywall in your house is made of gypsum, which is a rock. The makeup that you use has rocks in it,'' she says. "You could just about pick anything in this world, and I can tell you what rock it came from."
A few pieces even come from McKinney herself. When she had her four wisdom teeth pulled out as a student, she donated them to the collection. They represent homo sapiens—better known as modern man.
In addition to teaching great lessons about the world around us, Kendall Rocks also casts a calming spell upon its visitors.
"You walk in the door, and you have this nice, peaceful environment, and you're automatically relaxed," McKinney says.
— NM
More Features Articles