---
Making Their Mark
MDC's NWSA developed song in his heart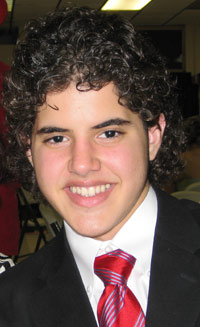 Javier Enrique Ferrer
Education begins at home, but it must blossom under professional guidance. Luckily for Javier Enrique Ferrer, his parents knew this, and when he was still a teenager, they sent him to hone his already prodigious voice and musical skills at Miami Dade College's New World School of the Arts (NWSA).
That structured training refined his talents and enabled him to obtain a $38,600 scholarship to study at the Cleveland Institute of Music.
"I really feel MDC has helped my musical knowledge grow at such a fast pace thanks to all those advanced classes where we are challenged to improve and perfect our skills," Ferrer said. "If it weren't for everything I learned there, I wouldn't have done as well on my auditions."
Born in Trinidad, Cuba, Ferrer and his parents arrived in Miami when he was 13 years old – almost five years ago. Although he already had some musical training, his parents and teacher knew he needed more. At NWSA, Ferrer studied music history, theory and solfège, along with other classes at the College's North Campus Music Learning Center.
Although he at first felt intimidated around so many other talented students, many with more years of training than himself, he caught up "pretty quickly."
"I enjoyed the company of my other fellow students, plus the competition and dedication among us," he added.
Now he dreams of becoming a great opera singer – not unlike his role model, the world-renowned tenor Plácido Domingo.
"I am really thankful for my parents' and my teachers' support in allowing me to be what I want, and for NWSA's help in making it all happen," he said.
— HP
More Making Their Mark Articles