---
Academics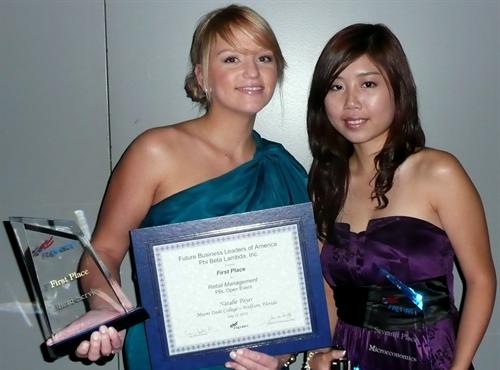 Business Students Shine at National Competition
Bringing home awards from the 2010 National Leadership Competition for Phi Beta Lambda (PBL), 33 MDC students proved they have what it takes to make it to the top. At the recent competition in Nashville, Tenn., MDC students showed their mettle against peers from top universities, including Pennsylvania State University and the University of Nebraska, among others.
"Each year, the quality of our student competitors improves, thanks to the great preparation they get from MDC faculty," said Ana Corrales, business co-advisor at MDC's Wolfson Campus.
"Through the collaboration of resources and talents from MDC's School of Business, Student Life and administration, MDC's PBL members are prepared to excel now and in the future."
Phi Beta Lambda, the largest and oldest U.S. organization for business students, prepares its members for business careers.
Among the 33 MDC winners are:
Natalie Payer, outgoing PBL chapter president and Wolfson Campus student, who won first place in Client Services and Retail Management.
Horacio Aguirre, Giovanni Castro and Carlos Argüello, Kendall Campus students who took first place in the Small Business Management category for their plan to provide fitness training in South Florida condos and apartment buildings.
Joseph Vithayathil, a Kendall Campus student who brought home third place in the Accounting for Professionals category.
Miao Yu, Wolfson Campus student, took seventh place in Microeconomics.
— BB
More Academics Articles