---
Academics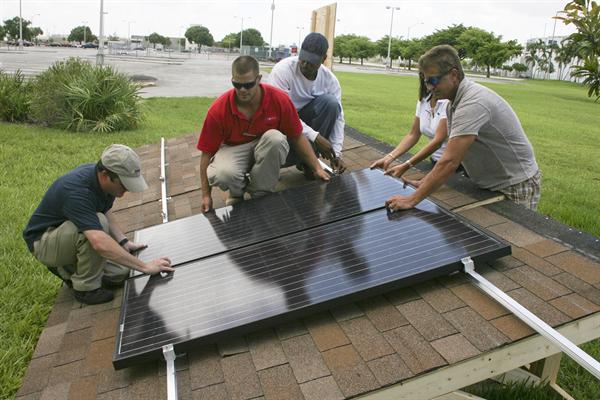 Students Update Skills at Green Technology Institute
Thanks to MDC's Green Technology Institute (GTI) at North Campus, students from all fields and backgrounds have been learning about a wide variety of emerging green industries. Among the courses they're pursuing are GTI's solar electric training courses, which vary from 40-hour entry-level courses to more advanced eight-hour certification workshops and are designed to help students train for jobs in the growing field of alternative energy.
Hundreds Have Benefited
About 300 students have enrolled in classes since the program began in 2009. "It's something that's really in demand," said Lucy Domínguez, program coordinator for Professional and Workforce Training at the School of Community Education, North Campus. "General contractors need it, designers need it, even real estate professionals need it now because everything is going green, from homes to businesses."
The courses cover everything from basic knowledge of solar photovoltaic (PV) cells and code requirements to advanced classes in safety issues and inspection procedures.
GTI's programs provide Continuing Education Credits for electricians, architects, designers, journeymen and contractors to renew their licenses and advance their careers. Entry-level students completing an industry-recognized course qualify to sit for the North American Board of Certified Energy Practitioners (NABCEP) PV Entry Level Exam.
Great Career Development
"It's good for anyone starting, and it's also very important for those who are already in the business," Domínguez said. NABCEP courses are taught at MDC's North Campus through ONTILITY, a Houston-based provider of energy efficient products, services, training and technologies.
— NM
More Academics Articles