---
Academics
Learning Takes on New Dimensions with Second Life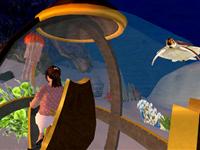 Using Second Life technology, students voyage to the bottom of the sea.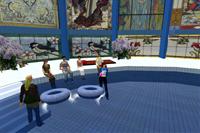 Faculty members discuss teaching strategies in the MDC Island Gazebo.
Ever wish you could travel under the sea to bring a marine biology class to life? Or tour the Louvre in Paris for an art history class?
Now students and faculty at Miami Dade College can do just that, and much more with cutting-edge technology called "Second Life" that lets them enter virtual worlds to enhance traditional lessons gleaned from textbooks and lectures.
 Karl Herleman, MDC's vice provost of information technology, said about 30 professors in a variety of disciplines are already using the program.
Total Immersion
"Second Life is an immersive, three-dimensional virtual world where you interact with other people through an avatar, or a digital representative of yourself," Herleman said.
Faculty from MDC's eight campuses can log on from their homes or offices to meet on the MDC Second Life Island and discuss teaching strategies for incorporating Second Life's interactive learning into their classes. Avatars and voice tools create a sense of really being there, according to Rhonda Berger, director of technology training.
Janelle Fernández, an information architect at MDC, said Second Life's uses are vast.
Endless Applications
"It's a new creation of the real world," she said. "In a virtual world, if your English class wants to visit Shakespeare's Globe Theatre in London, you can do that. Or at our Medical Center Campus, you can simulate an emergency situation or assist in a surgery."
 After logging into Second Life, a tutorial explains the basics of how to get your avatar to sit, stand and fly. You can give your avatar a name and any "look" you choose.
"The students love it," Fernández said. 
— WV
More Academics Articles