---
Academics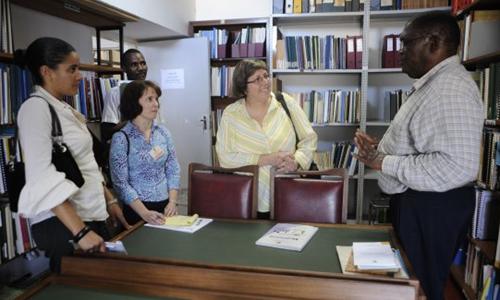 Sharing Information to Save Lives
MDC Helps Libraries in Mozambique Break Barriers of Isolation
When Miami Dade College opened its doors in 1960, it adopted the motto "Scientia est potentia." Now it is helping show others that knowledge is not only power, it also is a vital key to saving lives.
Library staff from MDC's Medical Center Campus recently visited libraries in Mozambique to show how sharing information can help medical students in their mission to improve public health throughout their nation, where 1.5 million people are living with HIV, according to recent estimates by the Joint United Nations Programme on HIV/AIDS.
The Mozambique library initiative was part of Miami Dade College's recent expansion of its partnership with the Association of Public Health Laboratories in the fight against HIV/AIDS.
The partnership began in 2008, when Mozambican biologists came to MDC to learn new skills. Now efforts are also focusing on two medical institution libraries in Maputo, the nation's capital.
The libraries of the Instituto Ciências de Saúde (Institute of Health Sciences) and the Instituto Superior de Ciências de Saúde (Higher Institute of Health Sciences) share the same space and house a small, well-organized collection of print materials and a modest computer room with Internet access. However, they are run independently from each other and have had no access to or even knowledge of the other's resources.
"We observed a strong sense of ownership and concern over releasing precious materials," said Elisa Abella, library director for Miami Dade College's Medical Center Campus. "Isolation is a great barrier, and we encouraged the library staff in Maputo to adopt a broader vision."
Inspired by the input of MDC librarians, staff at the two libraries in Maputo are now embracing the idea of collaboration and have also learned how to empower their students to learn more by sharing vital medical information.
"They have access to more than 7,000 full-text journal titles available through the World Health Organization and the cooperation of more than 100 publishers," said Carla Clark, faculty librarian for MDC's Medical Center Campus. "But only one staffer was using it for student queries.
"They became interested in how we teach our students to log into online resources and how to do research themselves, as well as guide them along, so they can become independent, life-long learners."
— PUR
More Academics Articles