---
Cultural Spotlight
MDC Student Film a Scary Success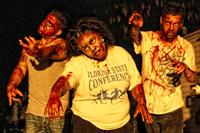 MDC students, wrote, directed and starred in 'Play Dead,' a short horror film that is garnering international acclaim.
Student Horror Film Garners International Praise
Halloween had plenty of treats in store for a group of MDC Kendall Campus students and their instructor thanks to the acclaim their short film collaboration has been garnering across the globe, including a nomination for Best Short at the 2011 Week of Fantastic Cinema in Nice, France.
Titled Play Dead, the film is doing anything but, having been invited to screen in March 2012 at Scotland's Dead by Dawn international film festival – the most popular horror film festival in Europe.
Terrific Response
The film already was awarded the Best Florida Short and Best Special Effects/Makeup honors at the Freak Show Horror Film Festival in Orlando and has been nominated for Best Short Film and Best Director(s) at the New Orleans Horror Film Festival.
Its momentum began at Miami's Borscht Film Festival, where organizers described this clever story about a pack of dogs uniting to survive a zombie apocalypse in the ruined streets of Miami as "the cutest darn zombie movie ever." It also will be screened at the 2011 Eerie Horror Film Festival, Erie, Pa., and the Toronto After Dark International Film Festival.
Student Involvement
The talent pool for the film consisted of members of the Visual Arts Student Organization (VASO), a Kendall Campus-based club.
VASO members not only played the roles of  zombies and human survivors but also collaborated backstage, actively assisting with film production duties.
Play Dead was directed by Andrés and Diego Meza-Valdés, sons of MDC Arts and Philosophy Professor Alberto Meza, who worked behind the scenes, right alongside the students.
"It is a great thrill to have this film we worked so hard on be recognized at film festivals around the world," said Meza.
— HP
More Cultural Spotlight Articles