---
Cultural Spotlight
This Fall, All the World's a Stage for MDC Theatergoers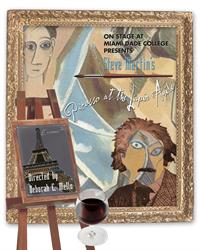 This poster announces Steve Martin's play, which opened the MDC theater season with a bang.
Wolfson Aims to Bring Down the House
Starting the season on a witty note with just the right touch of satire, Miami Dade College's Wolfson Theatre Department will open with American playwright John Guare's award-winning black comedy The House of Blue Leaves.
This play, with its heady dose of social commentary, has proven itself to withstand the test of time, earning the Drama Critics' Circle Award in 1971, an Obie Award for Best American Play and four Tonys for its 1986 revival at the Lincoln Theater for the Performing Arts.
Set during Pope Paul VI's historic visit to New York City on Oct. 4, 1965, this comedy dexterously depicts the darker side of the American dream, calling into question our often shallow value systems. Playfully commenting on the destructive nature of the media on people's lives and dreams, Guare adds the perfect dose of laughter to what could otherwise be a harsh social critique.
"Guare uses the Pope's visit to speak to the United Nations as an excuse for a brutally funny, prescient meditation on celebrity culture," said associate professor Joshua Braun, director of this must-see production, which will run Nov. 17-19 at the Wolfson Campus, Room 6400.
Kendall Theatre Gets Real
After the huge success of Steve Martin's brilliant play Picasso at the Lapin Agile, the Studio Theatre at MDC's Kendall Campus follows with Tom Stoppard's clever absurdist satire The Real Inspector Hound, directed by associate professor Sean Paul Bryan.
Opening on Dec. 2, the farce satirizes the work of theater critics as well as the different aspects of the theater experience itself. A parody of stereotypical parlor mysteries written in the style of Agatha Christie's The Mousetrap, The Real Inspector Hound is sure to delight audiences.
But do not be deceived by its seemingly blithe approach; Stoppard's Hound is not to be taken lightly. In the guise of merriment, the playwright invites us to challenge our ideas on the nature of reality and the relationship between life and art. Toying with the metafictional concept of a play within a play, Stoppard shatters the fourth wall of the stage, encouraging audience members to become aware of the role they also play in any dramatic performance they witness. Best of all, he does this with effortless elegance, making this play as hilariously relevant today as in its 1968 London premiere.
— HP
More Cultural Spotlight Articles