---
Features
A Bright Harvest Moon Brings Chinese Culture to MDC and South Florida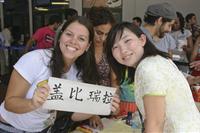 Students learn about calligraphy at Wolfson Campus.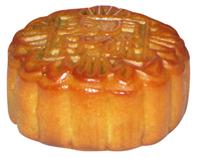 Cakes with a sweet lotus seed filling were served during the Chinese Harvest Moon Festival at MDC.
The sights, sounds and flavors of China came to life at the Wolfson Campus during MDC's first-ever Harvest Moon Festival. 
This ancient Chinese celebration was sponsored by Miami Dade College's Confucius Institute, which was inaugurated earlier this year to bring Chinese culture and traditions to the College's students and staff and also to the entire South Florida community.
Designed to be an interactive experience in harmony with the Institute's spirit of promoting cultural exchange, many activities involved audience participation. There were quizzes on Chinese culture, shuttlecock games and calligraphy workshops. While watching Chinese folk dancers, ballet jugglers and Tai Chi masters, festival goers sipped tea and munched on mooncakes, a pastry as intrinsic to this festival as turkey and pumpkin pie are to Thanksgiving. Containing a sweet filling of lotus seed paste, mooncakes sometimes envelop a duck egg yolk to symbolize the full moon. 
The Harvest Moon Festival, known as the Zhongqiu Festival or Zhongqiujie in Chinese, is linked to the legend of Chang'e, the mythical Moon Goddess of Immortality. It has been celebrated for more than 3,000 years on the 15th night of the eighth lunar month of the Chinese calendar. Usually occurring sometime from late September to early October, it is one of the most important holidays in China, second only to Chinese New Year. To this day, Chinese families and friends gather to spend time together, admire the bright, full harvest moon and eat mooncakes.
"As the MDC community, South Florida residents and the Confucius Institute came together to partake in this ancient tradition, everyone learns a bit more about the rich heritage of our diverse cultures," said Dr. Xuejun "Jim" Yu, director of the Confucius Institute. "Confucius once strove to build a great, harmonious and humanistic society; in his name, the Confucius Institute at MDC is doing just that – one sweet mooncake at a time."
— HP
More Features Articles