---
Features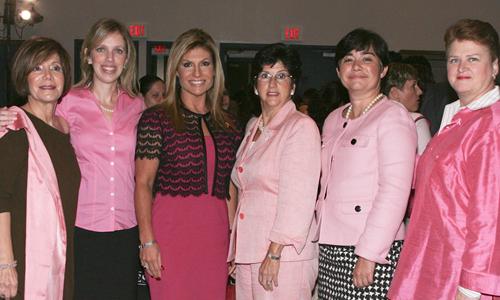 Going Pink for a Cause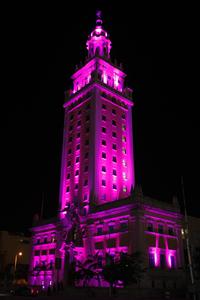 MDC lit its historic Freedom Tower pink for Breast Cancer Awareness Month as part of a global initiative.
MDC Lights Freedom Tower Pink for Breast Cancer Awareness Month
To commemorate the beginning of Breast Cancer Awareness Month, MDC Wolfson Campus President Mercedes A. Quiroga hosted "Light the Way to the Cure," a special ceremony dedicated to sending a far-reaching message of awareness. On Sept. 30, the MDC community and people throughout South Florida gathered for speeches by community health care leaders and a candlelight procession dedicated to those whose lives have been touched by breast cancer.
Following the speeches, hundreds of attendees, each holding a pink flashlight or glowstick in hand, marched from the Chapman Center at MDC's Wolfson Campus, up Biscayne Boulevard to the steps of MDC's Freedom Tower. The 1925 landmark was then illuminated in a glow of pink lights for the 25th annual Breast Cancer Awareness Month, and the rosy hue bathed the building throughout October as a reminder of the community's dedication to finding a cure.
Celebrating the unique symbolism of the Freedom Tower, which serves as a memorial to Cuban immigration, was Univisión Anchor Teresa Rodríguez, who lost both her mother and a beloved co-worker to breast cancer.
"This tower is not only an icon of freedom," Rodríguez said. "Tonight, it is also a symbol of hope."
The event was sponsored by Baptist Health Breast Center, BlueCross BlueShield of Florida and the Breast Cancer Awareness Campaign. The lighting was part of the Estée Lauder Global Illumination Initiative, which set a Guinness Book World Record by lighting for a cause the most landmarks worldwide within a 24-hour period. The Freedom Tower, a U.S. National Historic Landmark, was the only Florida landmark participating in this year's initiative.
"One in eight women is going to be diagnosed with breast cancer," said Dr. Gladys Girón, associate medical director of Baptist Health Breast Center. "Look around tonight. Keep that in mind. We are here for each other."
And it's not just a woman's issue. Men can get breast cancer, too. While early detection is key, finding the cure is everyone's ultimate goal.
— NM
More Features Articles