---
Features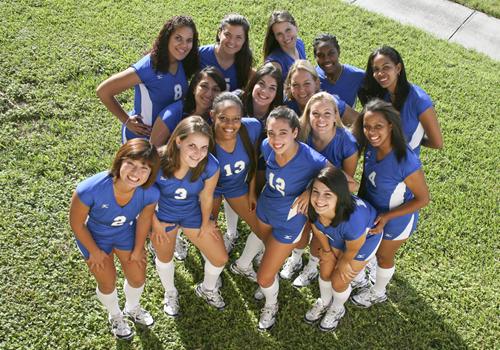 In Women's Volleyball, Sharks Ranked No. 1 in Nation
After an impresive start to the 2010 season, Miami Dade College's women's volleyball team has stayed at the top of its game among junior colleges throughout the nation.
Coach Orígines "Kiko" Benoit took his team to Idaho to start the year, and his Sharks beat the defending national champions (the College of Southern Idaho) and last year's third-place team (Salt Lake).
That vaulted the Sharks to No. 1 and bodes well for the rest of the season, which MDC fans hope culminates with a national championship this fall.
The Sharks won state last season – their 19th such title in the past 20 years – and finished fifth at nationals. They return with 5-foot-9 sophomore outside hitter Yenifer Calcano, who was second-team All-American last season and the MVP of the state tournament.
The big addition – literally – is 6-foot-3 freshman Marifranchi Rodríguez, a towering middle blocker from the Dominican Republic. She already leads the team in blocks and kills.
Other key players include 6-foot-1 sophomores Mima Hajdukovic and Franshesca León, 6-foot-3 sophomore Joana Alvarez and 5-foot-11 freshman Kahoriz Feliz. Alvarez made second-team All-Conference last season.
Benoit said he has been pleasantly surprised by walk-on Yukie Futami, a 5-foot-6 defensive specialist from Tokyo.
"We have a very solid team," Benoit said. "If we get lucky and avoid injuries, we could go far."
— WV
More Features Articles