---
Features
MDC Invests in Nation's Future by Seeking Mentors for Kids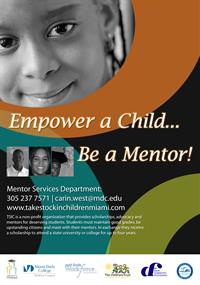 Empower a Child... Be a Mentor
Graduating from high school and going to college may seem like a given for many students, but for numerous others, these lofty goals appear utterly unattainable. That's where Take Stock in Children (TSIC) steps in to make dreams a reality by providing mentors along with college and vocational scholarships to deserving low-income children.
The national organization's Miami affiliate, housed at Miami Dade College's Wolfson Campus, recently launched a successful recruitment effort to find adult mentors for more than 60 students entering Take Stock in Children. Since 1995, more than 16,000 children throughout Florida have participated in the program.
Take Stock in Children's work in Miami was recently recognized on a national level when it won a $5 million grant from Investing in Innovation, a U.S. Department of Education program. It beat more than 1,600 nationwide applicants asked to pitch a bold proposal for education reform.
"The main ingredient for our continuing success is the mentoring program," said Carin West, mentor coordinator for TSIC's local program, which is a partnership between Miami Dade College and Miami-Dade County Public Schools.
The local group's achievements are also due to "our affiliation with Miami Dade College," West said. Numerous mentors have come from MDC's student body.
"MDC is our biggest advocate," West explained. "And the College's stellar reputation and large presence in the South Florida community make our worthy cause even more credible."
— PUR
More Features Articles