---
Features
MDC Students Help NBC and Nation Redefine Education System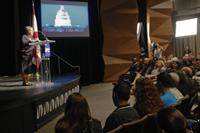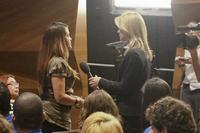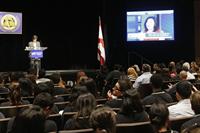 During MSNBC's nationally televised discussion with U.S. Secretary of Eduation Arne Duncan, Correspondent Michelle Kosinski, center, interviewed MDC Honors College students.
During a nationally televised discussion with U.S. Secretary of Education Arne Duncan, Miami Dade College students recently participated in an unprecedented event examining and redefining education in America.
"I'm a huge fan of Miami Dade College," Duncan said during the broadcast. "It is one of the premier community colleges in the country that is just doing an amazing job."
MDC was one of four schools chosen to participate in Duncan's conversation called "Teach for Tomorrow: A Reverse Commencement Address." The other universities were Howard, Michigan State and Arizona State.
The discussion kicked off NBC's "Education Nation," a weeklong series in which MDC President Dr. Eduardo J. Padrón also served on a panel in New York City. The series explored the challenges, opportunities and innovative ways to revolutionize education in this country.
During his speech, Duncan introduced a new initiative, aimed at encouraging college students — especially underrepresented minorities — to consider teaching careers. Currently, only 7 percent of teachers are African-American compared with 17 percent of the student body; and 7 percent of teachers are Hispanic, compared with 21 percent of the student body.
After Duncan's speech, an interactive discussion was televised live among the four institutions. Moderated by NBC Correspondent Michelle Kosinski, the broadcast featured MDC Honors College students who filled the Wolfson Auditorium and had a special opportunity to speak directly with Duncan.
— PUR
More Features Articles