---
Features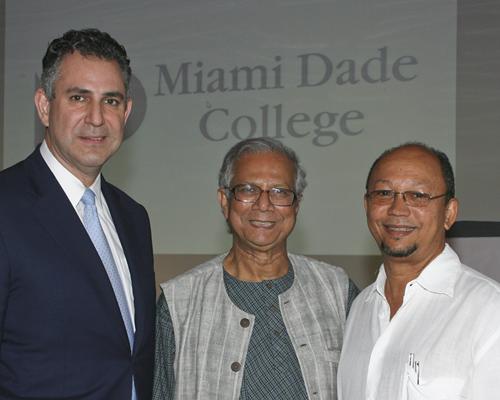 Nobel Laureate Brings Big Plan to MDC
Dr. Muhammad Yunus Proposes Social Business Fund to Help Haiti in Recovery Efforts
Nobel Prize Laureate Dr. Muhammad Yunus recently came to MDC's Wolfson Campus to propose that a social business fund be established to aid Haiti in its earthquake recovery efforts. Yunus, recipient of the 2006 Nobel Peace Prize and founder of Grameen Bank in Bangladesh, was hosted by MDC President Dr. Eduardo J. Padrón. Also in attendance to discuss the long-term recovery and rebuilding of Haiti were U.S. Under Secretary of Commerce for International Trade Francisco Sánchez and other important regional, national and international business and finance leaders.
In the 1970s, Yunus developed the concepts of microcredit and microfinancing, extending small loans to those in poverty to drive entrepreneurship and help them exit poverty by creating their own streams of income. Since these individuals usually lack resources, such as credit history or steady employment, to qualify for traditional loans, microloans give them opportunity and hope.
During his talk at MDC, Yunus proposed that a similar Social Business Fund be set up to aid Haiti, and that 10 percent of all charitable donations be put into it. The funds would be used to help establish and sustain business efforts to alleviate transportation, housing and health problems while also reducing the energy deficit, he said.
Commenting on Yunus' proposal, Under Secretary Sánchez told The Miami Herald, "This concept is more of a sustainable and enlightened philanthropy. We need to find more creative ways to make use of our philanthropic dollars. Let's spur entrepreneurship to create jobs and solve social problems."
Miami Dade College and Dr. Padrón, who traveled to Haiti shortly after the devastating earthquake earlier this year, have been very involved in Haiti's recovery efforts. In the weeks following the disaster, MDC faculty, students and staff raised nearly $100,000 for Operation Hope for Haiti and collected several tons of relief and medical supplies.
— NM
More Features Articles