---
Features
Recruits Bring Optimism for Men's Basketball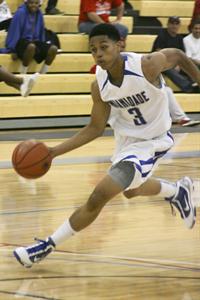 MDC's men's basketball team features a dozen recruits
Only two players return from last season's men's basketball roster, which means fourth-year coach Matt Eisele brought in a dozen recruits in an effort to elevate the Sharks.
"We are going to be very young this season," Eisele said. "Probably 65 percent of our production is going to come from freshmen. But we're also very talented. I venture to say we will start the season ranked in the top 25 in the nation."
The Sharks, who finished 12-14 last season, will try to find a way to replace Southern Conference Player of the Year Eloy Vargas, a 6-foot-11 center who signed with national power Kentucky.
Vargas averaged 21.1 points and 14.1 rebounds for the Sharks, who return Julien Sargent to center. The 6-foot-10, 255-pounder earned second-team All-Conference honors last season. Also back is 6-foot-4 guard Zach Lamb, who earned first-team All-Conference.
Among the newcomers are three players who transferred from other colleges: 6-foot-5 forward Antonio Hester, who averaged 14.5 points and eight rebounds at Indian River; 6-foot-7 forward Maurice Kemp, who moved from Alabama A&M; and 6-foot-4 guard Brennen Melvin from Fordham.
Competing for playing time will be nine freshmen, including guards Darwin Ellis, Xavier Munford, Shandel Stewart and Devin Brooks. Also watch for 6-foot-8 freshman forward Kendal Jennings.
"We have a lot of depth," Eisele said. "We will rotate 10 or 11 players and expect to have seven or eight average double figures in scoring. How good we are will depend on our sophomore leadership and how quickly the freshmen develop."
— WV
More Features Articles