---
Making Their Mark
Diverse Academic Pursuits Help MDC Students Capture National Art Awards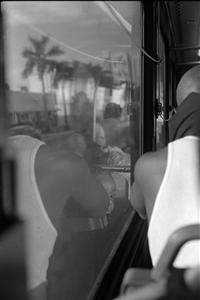 Sebastián Muñoz won Best of Show for his photograph.
Miami Dade College photography professor Joseph Tamargo cannot tell you why jurors loved his student's entry above all others at the League for Innovation National Art Competition. The acclaimed photographer can only tell you why he loves it.
"It's a timeless image," Tamargo said of Untitled, a photograph by his Wolfson Campus student Sebastián Muñoz.
Muñoz won First Place – Best of Show at the competition, which recently was held in Toronto and will be hosted next by MDC. Also, MDC students María Cristina Llanos, Guido Lonardi, Julio C. Miranda and Beatriz Rodríguez won Certificates of National Merit. Muñoz took top prize out of 95 works submitted from colleges nationwide.
Muñoz initially took photography classes as electives while working on an associate degree in marketing. What started as a hobby became his passion, so he changed course and is now focusing his studies on photographic technologies. The program concentrates on preparing students for the field of commercial and industrial photography. Students like
Muñoz can choose from a variety of courses, including computer art, fashion photography and portrait/still photography.
The diverse paths students take at MDC often enhance their future job prospects.
"Muñoz will surely use his marketing skills to advance his career as a professional photographer," Tamargo said.
— PUR
More Making Their Mark Articles