---
Academics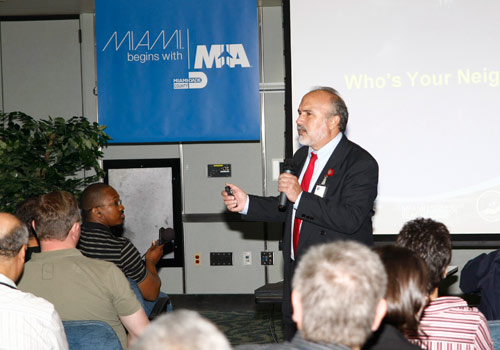 MDC airport training program cleared for takeoff
In partnership with Miami Dade College, the Greater Miami Convention & Visitors Bureau, the Miami Beach Visitor and Convention Authority and Miami International Airport (MIA) recently unveiled its "Miami Begins With MIA" initiative. Crucial to this plan is MDC's commitment to provide new and dynamic customer service training to the airport's 35,000 "badged" employees.
The College's Center for Service Excellence (CSE) is spearheading the curriculum with particular emphasis on the key role each airport employee plays in the visitor experience from arrival to departure. It is no secret that tourism is Miami's top industry, and MIA is the city's economic artery.
CSE provides training for a variety of organizations and all employee levels from entry to senior management, in relevant areas such as team building, customer service and conflict resolution.
"This level of training sets the foundation by building employee morale, improving productivity in the workplace and strengthening the identity of the organization," said María Rey-Seara, CSE's program manager.
— TC
More Academics Articles