---
Alumni News
Rodney Barreto gives back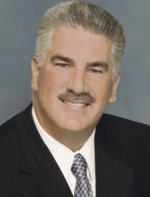 Rodney Barreto
Rodney Barreto is an alumnus who continually gives back to his community, especially when it comes to sports and conservation. President and CEO of The Barreto Group, Inc., Barreto is chairman of the 2010 South Florida Super Bowl Host Committee. The Super Bowl is back in South Florida for a record-breaking 10th time.
Barreto also chaired the 2007 South Florida Super Bowl Host Committee, helping to raise more than $12 million to support Super Bowl XLI in 2007 in Dolphin Stadium.
The Miami native also is deeply interested in conservation. Currently Barreto is serving his second five-year term on the Florida Fish and Wildlife Conservation Commission and his sixth term as chair of that Commission.
Barreto has received numerous awards, including being presented the Key to the County by Mayor Stephen P. Clark. Most recently, City of Miami Mayor Manny Díaz issued a Salute, presenting Barreto with a Key to the City for his civic work surrounding the Super Bowls. Barreto also received special recognition for his outstanding contributions toward the establishment of a Research Natural Area in Dry Tortugas National Park to restore, protect and preserve the park's pristine subtropical ecosystem.
He is a board member for US Century Bank, a member of the Florida Council of 100 and sits on the board of the Baptist Hospital Health Foundation.
For his outstanding contributions, Barreto was inducted into the Miami Dade College Hall of Fame in 2005.
"Miami Dade College gave me the proper foundation that assisted me in business," Barreto said, "and it helped foster the sense of community pride that has been key to my involvement in various organizations for the betterment of my city, county and state."
Barreto earned his Associate in Arts degree at MDC, then earned his Bachelor of Arts degree in Professional Studies from Barry University. He is married and lives with his wife, Shelia, and two children, Brittney and Bradley, in Miami.
— Staff Report
More Alumni News Articles