---
Alumni News
Gómez sows what he reaped at MDC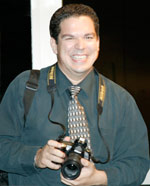 Victor Gómez
Professor Victor Gómez owes his profession as an art teacher to Miami Dade College. "I was a student at North Campus," Gómez said. "After winning a few art contests and spending time with my professors and learning how their lives were so intertwined through art, I was hooked. I switched my major, prepared a portfolio and transferred within the year to the art program."
Gómez went on to receive his BFA in Fine Arts from Temple University's Tyler School of Art in Philadelphia, where he interned in the Philadelphia Museum of Art's Education Department. During these school years he also taught sculpture to visually impaired adults as part of the Museum's Form in Art Metropolitan Museum of Art's Education Department and served as a docent for their unique Please Touch Tours, which allowed program. "I myself am visually impaired, but I don't let that stop me," Gómez explains.
Gómez then moved to New York City to pursue his MFA at Hunter College's School of Art. During this time, he interned at the physical contact with exhibits for visually impaired adults.
Gómez returned to MDC in 2002 to teach. He loves it. "My sense of accomplishment and pride in teaching students is truly fulfilling," he said. "MDC students are thoroughly prepared to transfer into competitive programs nationwide. It's very rewarding to watch my students become my colleagues."
Teaching within the same classrooms where he once was a student has given Gómez a different perspective. "I instruct students that lived in the same neighborhoods I did growing up and even the same schools I attended," he explains. "Sometimes the nostalgia is overwhelming."
Gómez believes that the College's faculty exhibitions are special to the field of visual art. "I have to prove myself annually and showcase all the skill sets I claim to be an expert at within visual language," he says. "Every year the faculty takes it to the wall to be judged and critiqued by all. It's a very unique and competitive aspect to this career that I really enjoy."
— BB
More Alumni News Articles