---
Features
Carnegie/CASE Award goes to North Campus professor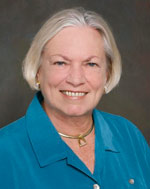 Dr. Sandra Schultz
Dr. Sandra Schultz has amassed an impressive curriculum vitae during her three-decade career at Miami Dade College. In addition to authoring five textbooks, the North Campus professor of biology, health and wellness has garnered four Endowed Teaching Chairs and is now one of only three MDC faculty to receive the coveted Professor of the Year designation for Florida.
"This is an incredible honor and a great way to end my career," said Dr. Schultz, who plans to retire after one more year. "MDC is an amazing place to work and I have enjoyed every day of my 32 years here."
Dr. Schultz was recently recognized by the Carnegie Foundation for the Advancement of Teaching and the Council for Advancement and Support of Education (CASE) during the Professor of the Year banquet in Washington, D.C.
"The College has long recognized Dr. Schultz's excellence," said MDC President Dr. Eduardo J. Padrón. "She is an outstanding leader, mentor to many of her peers, and committed to helping every student who crosses her path."
— NT
More Features Articles