---
Features
Padrón named Floridian of the Year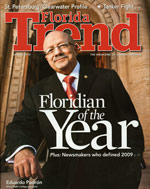 Florida Trend, which focuses on the issues, people and ideas that define the state's business climate, recently named Miami Dade College President Dr. Eduardo J. Padrón its first-ever "Floridian of the Year."
President Padrón appears on the cover of the magazine's January 2010 issue and is recognized for his significant contributions to Florida during the last year. Florida Trend credits him with helping to steer the nation toward economic recovery, elevating the status of community colleges and having the Obama administration's ear on higher-education access, affordability and quality.
The "Floridian of the Year" honor follows on the heels of Dr. Padrón's November recognition by TIME magazine, which named him one of the nation's "10 Best College Presidents."
"What distinguished Padrón in 2009 – and what makes him Florida Trend's 'Floridian of the Year' – was his influence," wrote Florida Trend senior writer Cynthia Barnett, who profiled Dr. Padrón for the January cover story.
Barnett also interviewed Will Holcombe, chancellor of Florida's College System, for her article. "In the past year, there has been a transformational change in the conversation about American community colleges," said Holcombe. "President Obama is part of it, and Eduardo is the best example of leaders who are having an impact."
Brian Fitzgerald, executive director, Business-Higher Education Forum, an organization of Fortune 500 CEOs and college and university presidents, concurs: "The nexus of education and business is crucial to the nation's competitiveness, and that is a space that Eduardo has really influenced. He has clearly influenced the Obama Administration."
Other notable newsmakers include philanthropist Lawrence 
E. Ruf, scientist Dr. William Hauswirth and star quarterback Tim Tebow.
— NT
More Features Articles