---
Academics
Engineering department welcomes new chair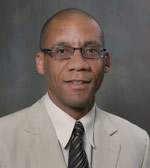 Dr. Michael D. Whitt
MDC's is pleased to welcome its new Collegewide Chair for the Department of Engineering, Dr. Michael D. Whitt. Among his other responsibilities, Dr. Whitt will oversee the implementation of the first baccalaureate degree in Engineering Technology at Miami Dade College.
Dr. Whitt brings with him experience as broad and varied as it is deep and impressive. He holds a B.S. degree in Chemical Engineering from Purdue University, M.S. and Ph.D. degrees in Biomedical Engineering from Rutgers University and an MBA from the UCLA Anderson School of Management. His industry experience has included technical and project leadership roles in both the pharmaceutical and medical device industries. Dr. Whitt also holds three patents and has been published in various peer-reviewed journals, technical handbooks and bioengineering books.
An advisor to the Society of Hispanic Professional Engineers, Dr. Whitt is instrumental in that group's research and product development effort to reduce health care disparities in cardiovascular disease and improving early diagnosis.
Of the appointment, Dr. Richard White, director of MDC's School of Computer and Engineering Technologies, says, "Dr. Whitt's extensive industry experience and academic background make him a great asset to our school of Computer and Engineering Technologies and the Department of Engineering."
— NG
More Academics Articles