---
Cultural Spotlight
MDC mezzotint goes to London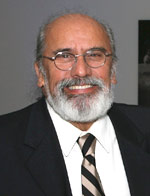 Professor Alberto Meza
Miami Dade College's commitment to the arts is self-evident to anyone in our community, whether it be in our unwavering support of cultural events or in the development of new artists. And though it is not uncommon to get our name in the international arena as well, it is always
cause for celebration. As is the case with "Still Life," a mezzotint print by MDC faculty Alberto Meza.
A professor of Fine Arts specializing in printmaking at the Kendall Campus, Meza had his work selected by the Federation of British Artists for inclusion in their current exhibition, Originals 2010, at the Mall Galleries in London.
"I was surprised by two rather ironic happenings; one, that such a small work would catch the attention of the British jurors; and second, that the technique I used, the mezzotint, has lost most of the tremendous appeal it used to have back in the 18th and 19th centuries as a medium of artistic expression in printmaking," Meza said.
Indeed, Meza is steeped in history-rich tradition when it comes to his approach to printmaking. Whether it be working with metal for his engravings, etchings and mezzotints, or wood for his woodcuts, he still favors the burin – an engraving tool that has remained unchanged for centuries.
His artistic influences too boast an impressive pedigree, ranging from Rembrandt to Durer and including the likes of Goya, Bosch and Bruegel.
A full-time faculty member at MDC for almost 20 years, Meza began teaching humanities at the Medical Center Campus. In 1995, he transferred to his current post at the Kendall Campus.
"MDC has always been very supportive of all my artistic ideals," he said.
Apart from being a renowned artist, Meza is also a published poet and active member of the Academy of American Poets. But at the moment, he is most happy with the international recognition he is receiving with his entry into the London-based exhibit.
"In a way, I feel very happy that I have succeeded in claiming at least a tiny little space in the largest printmaking exhibition in Europe," he added.
Originals 2010 is the largest printmaking show in Great Britain, boasting close ties with the Royal Academy of Art and the Royal Academy of Fashion and Design, and will run through April 29.
— HP
More Cultural Spotlight Articles