---
Cultural Spotlight
Creative minds at Kendall Campus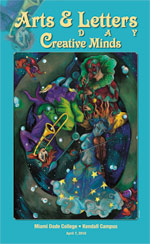 Official poster for Arts and Letters Day 2010
This April, the campus celebrated creative minds with more than 30 programs, including a panel discussion with a painter, a psychologist, a physician, a poet, and a philosopher, and a keynote speech by GableStage producing director Joseph Adler. The motto "Creative minds have always been known to survive any kind of bad training," is adopted from the writings of the late Anna Freud, psychoanalyst and daughter of Sigmund Freud.
"We bring the arts to our students and to the community of West Kendall, who are not always up to going all the way downtown for the many arts events we have in Miami. The arts are right here at their back door," said Marta Magellan, English professor and co-chair of the Arts and Letters Day Committee.
Participants in the scavenger hunt had the chance to win an iPod Touch. The all-day puzzle was based on the acclaimed novel, The Shadow of the Wind by Carlos Ruiz Zafón. The clues were hidden inside the various event venues. One of them was The Beat Café, an Arts & Letters Day favorite. Transforming a plain room into an atmospheric café inspired by the 15th century "penny universities," where for the price of a cup of coffee you could get an education, came courtesy of the Interior Design Student Organization and the Visual Arts Student Organization. Since it's all about celebrating creativity no matter what its outlet, local entrepreneur, Misha Gómez, was on hand at the Café to talk about the creative process that went into creating her business, Misha's Cupcakes. She also offered samples of her sweet treats.
— CJI
More Cultural Spotlight Articles