---
Cultural Spotlight
County judge, Writer's Institute success story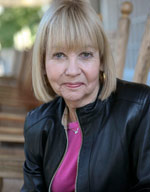 Miami-Dade County Judge and author Barbara Levenson
Barbara Levenson had achieved quite a few dreams by the time she sat down to write what became her first legal thriller, Fatal February. She had been the first woman elected to the Columbus, Ohio, Board of Education, graduated cum laude from University of Miami Law School, served as a prosecutor, ran her own law practice, been elected to a judgeship in the circuit court of Miami-Dade County, raised two sons, and bred champion German Shepherds.
But she'd always wanted to write fiction, and had looked at her legal writing – the briefs, orders and opinions – as relating a story. Until the day when her lead character, Mary Magruder Katz, a half Jewish, half Southern Baptist Miami criminal defense attorney, "popped into my head, full blown," she recounts. It was time to write a novel.
With some drafts of short stories and ideas for expanding them, Levenson registered at The Writers Institute of the Florida Center for the Literary Arts at Miami Dade College. She had previously taken fiction workshops at the Center.
"It gave me a good start in writing," she says. "I enjoyed the program and met some interesting people."
At the Institute, Levenson took workshops in playwriting with the NIBRAS Arab American Theater Collective and fiction with
Chris Mazza.
A year and half later, Fatal February was ready for a publisher. She hooked up with Oceanview Publishing, headquartered in Massachussetts, at another conference.
Levenson still has credentials to sit as a senior judge and hopes she can find the time to do so in the future, but writing full time and promoting her books – Justice in June is slated for publication this summer – keeps her busy.
"I am writing a third Mary Magruder Katz mystery," Outrageous October, she says. "And also working on some things in different genres, but my first love is mysteries."
More Cultural Spotlight Articles