---
Cultural Spotlight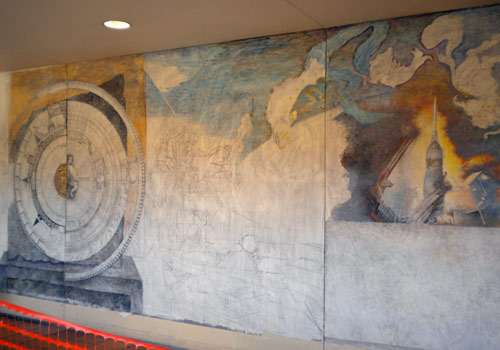 Celebrated muralist to create work at Wolfson, aided by MDC students
Painter and muralist Diego Rosales will soon complete a vibrant, striking mural depicting legendary and historical events extending from prehistoric man to space travel.
Rosales, a native of Mexico, with a storied career that includes murals in government and cultural buildings, restoration projects and collaborations with renowned Mexican muralist Diego Rivera, chose Miami Dade College to play host to this, his first mural outside of Mexico.
"For Maestro Rosales it is not just a work of art, it's a legacy," said Dr. Rosa María Mayorga, chair of MDC's Department of Arts and Philosophy, Wolfson Campus, referring to the mural.
"Maestro Rosales chose Miami and MDC, not only to display his work but to pass on his craft," she said, referring to the "fresco secco" technique employed by the artist, assisted by various MDC students, who, upon seeing the preliminary work, asked to be included in the project.
The 400-square-foot mural located on the fourth floor of Building 3, depicts an array of significant, iconic figures and events in the history of Mexico and the United States, from the Aztecs to Mt. Rushmore. The mural, expected to be completed by the end of the spring semester, will stand as an homage, not only to its creator, but to the cultures it represents.
"As a multicultural institution, set in a multicultural city" added Dr. Mayorga, "it is appropriate that this mural be housed here."
— NG
More Cultural Spotlight Articles