---
Academics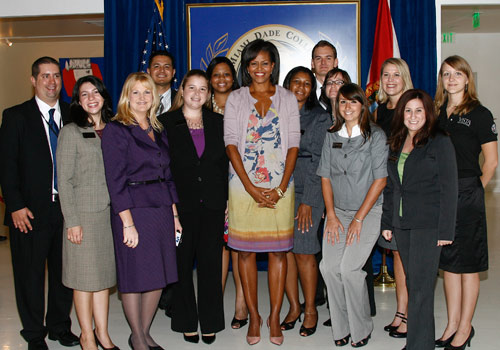 Redefining success
First Lady Michelle Obama shared her hope of redefining "success" before a packed audience at MDC's Freedom Tower during the 2009 Florida Campus Compact Awards Gala and Luncheon, which was hosted by Miami Dade College. During the Gala, MDC received several awards, including the "Engaged Campus of the Year Award" for its outstanding commitment to a culture of engagement in all aspects of the institution.
"How do we contend with the traditional definitions of what success should look like, those beliefs that still hold sway over so many young people," she asked. "The idea that success means money or power or prestige, and that it comes with a nice house and a fancy car?"
One way, she said, is through participation in Campus Compact, a national coalition of more than 1,100 college and university presidents dedicated to promoting community service, civic engagement and service-learning in higher education. Its efforts, Mrs. Obama added, will create an enormous ripple effect that solves problems, uplifts communities and transforms lives.
"If that's not the definition of success," she said, "then it's hard to figure out what is."
— PUR
More Academics Articles