---
Cultural Spotlight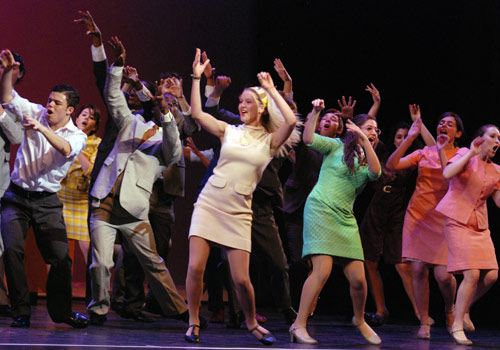 Treasures from the New World School of the Arts
Students at Miami Dade College's New World School of the Arts (NWSA) let their many talents shine in a wide range of events last year. Here are some of the highlights of the numerous works showcased by the school's college division:
Art from the Garden – This exhibition was inspired by Coconut Grove's Kampong Gardens, which is on the National Register of Historic Places. Visual arts students and faculty spent a day absorbing the natural beauty of exotic foliage of the gardens. They created original photographs, drawings, paintings and ceramic pieces, which were displayed, with some also sold, at the Kampong-Schokman Education Center.
A Night of Three Plays by Noel Coward – Theater students presented a selection of works from renowned English playwright, composer, director and actor Noel Coward at the Louise O' Gerrits Theater in downtown Miami. The short plays included Red Peppers, a sassy satire about life in old English music halls, where the former child actor spent much of his youth.
Bedrich Smetana's The Bartered Bride – The College Opera Theatre Ensemble performed this comedic opera about two young lovers who outwit their elders in a series of hilarious situations. The presentation, held at the Gusman Center for the Performing Arts in downtown Miami, also featured the school's own Symphony Orchestra performing Smetana's work.
College Spring Dance Concert – Six pieces, created by NWSA choreographers, were performed by more than 80 dancers during a four-day presentation at the New World Dance Theater in downtown Miami. The repertory also included world-renowned choreographer José Limón's Dances for Isadora, which features five solo dances performed to the music of Chopin.
2010 Rising Stars Showcase – Presented at the Arsht Center for the Performing Arts in downtown Miami, this professionally staged, energy-packed, one-of-a-kind exhibition and performance featured works from the school's dance, music and theater divisions. The Rising Stars visual arts exhibition took place at NWSA's Artseen Gallery during the Second Saturday Art Walk series in Wynwood.
Tchaikovsky, Handel and Elgar's timeless masterpieces – NWSA's Symphony Orchestra, its Concert Choir and more than 100 of its high school and college music students joined forces to present three masterpieces at the Arsht Center. They interpreted Tchaikovsky's Romeo and Juliet, Elgar's Enigmas Variations, and Handel's oratorio, Judas Maccabeus.
New York Showcase – Thirteen graduating seniors from NWSA performed at New York City's Snapple Theater Center to an audience of industry insiders, including agents, artistic and casting directors and other theater experts, all of whom were eager to "discover" new talent. The showcase was followed by an evening performance, where prospects were given a closer look.
— PUR
More Cultural Spotlight Articles