---
Features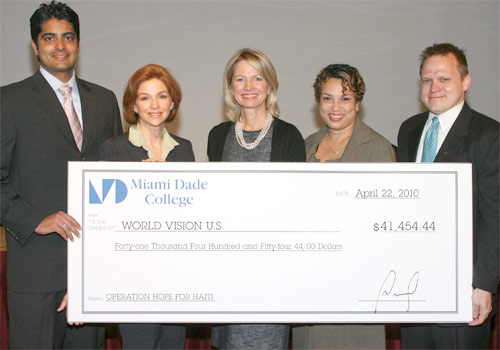 Joining MDC'S forces to help Haiti after quake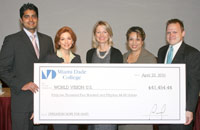 Nitin Motwani, Helen Aguirre Ferré, Julie Grimes, Lisa Torres and Scott Burnotes.
In the aftermath of the 7.0 magnitude earthquake that hit Haiti on Jan. 12, Miami Dade College has rallied its many forces to help the devastated nation both immediately after the tragedy and in the difficult weeks and months that have followed.

First MDC's Emergency Preparedness Team consulted with humanitarian and governmental agencies to determine the best actions to take; then the team coordinated all relief efforts. Next MDC established an emergency relief fund to raise donations for relief agencies to buy the supplies they needed.
Truckloads of first-aid supplies
The College also immediately began a drive to bring in medical supplies. In January and February, students delivered truckloads of first-aid supplies to Mercy Hospital as part of a collaboration with Mercy and Sister Emmanuel Hospitals.

On Jan. 26, in a symbolic gesture of support, all eight campuses held candlelight vigils that included memorials, tributes, a moment of silence, a celebration of life ceremony, music and poetry. Working with Snead State Community College in Boaz, Ala., students in MDC's Student Development Program Cultural Exchange and Civic Responsibility Student Engagement Program raised funds and helped with other efforts to aid Haiti.

As a result of the college's fundraising efforts, MDC President Dr. Eduardo J. Padrón presented a Haiti Relief Campaign check for nearly $42,000 on behalf of employees and students to World Vision's Operation Hope for Haiti, a South Florida-led initiative selected by MDC for its commitment to uniting the South Florida community in relief efforts.
Resuming Haiti's education goals
Also at a recent Clinton Global Initiative University meeting, President Bill Clinton approached Dr. Padrón to help aid Haiti in coordinating a structured effort to resume the country's higher education goals. Numerous people and institutions in the United States offered aid to Haitian colleges and universities, but there had not been a consistent overall plan to move forward. Drawing upon his extensive experience with higher education and his position as chair-elect of the American Council on Education, Dr. Padrón agreed to lead the effort. Details are now being worked out.
— BB
More Features Articles