---
Features
Lady Sharks win national championship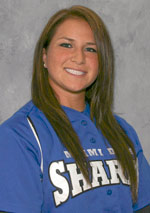 Erika Bennett
If you see Erika Bennett on campus, offer a high-five. If you bump into MDC Coach Carlos Caro, shake his hand. And if you encounter any other member of the Sharks' softball team, congratulate them, too.
On May 22 in St. George, Utah, they accomplished their lofty goal of winning the National Junior College Athletic Association championship, a first in the history of the Sharks' softball program. While the 2010 national title represents the College's first in fast-pitch softball, MDC's athletic teams have earned 33 total NJCAA titles, including 13 in women's sports.
Bennett was named the Most Valuable Player of the tournament, pitching a one-hit shutout in the championship game, a 7-0 victory over Wallace State (62-9).
The Sharks, who made their way through an elite 16-team field at nationals by winning five straight games, finished 51-7, the most victories and fewest losses in Sharks history. Bennett was 26-2 this season — another MDC record.
At nationals, Bennett was 4-0 with a 0.54 earned-run average, striking out 32 batters in 26 innings. In the title game, she allowed only an infield single, showing why she has earned a scholarship to Marshall University, where she will debut this fall.
But the Sharks were about more than just Bennett.
Veronika Fukunishi, Kristen Exposito and Ashley Silveira homered in the title game. Fukunishi, Simone Suetsugu, Geovanny Nuñez and Vivian Morimoto made the all-tournament team. And Amanda Lara and Rebecca Hall had two hits each in the final. 
Exposito had earlier been named the Southern Conference Player of the Year, and Bennett was the league's Pitcher of the Year.  Lara, Suetsugu, Fukunishi, Morimoto, Nuñez and Simone Miyahira also made first-team All-Conference. And Hall, Stephanie Buendia and Tamara Hidalgo made the second team.  
"Our players believed in themselves," said Caro, who was named the outstanding coach at nationals. "They believed they could accomplish their dream."
— WV
More Features Articles