---
Features - MDC Grads
Crossing bridges: Andrés González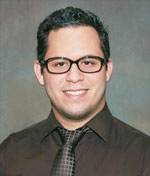 Andrés Y. González
Miami Dade College graduate Andrés Y. González crossed the Florida straits and language barriers in pursuit of a dream to improve medical care in impoverished countries.
When he arrived from Cuba less than five years ago, he enrolled in classes in ESOL (English for Speakers of Other Languages) at the InterAmerican Campus. Impressed by González's ability to grasp the material quickly, a professor had him enroll in the campus' Honors College Dual Language Program, which was launched in 2006 to improve students' proficiency in both English and Spanish so they can increase their future job opportunities.
González hit the ground running. He was accepted in the Bridges to the Future program, an initiative to involve minority students in scientific research. Through the program, he worked eight months at the Stem Cell Institute at the University of Miami and completed an experiment to find alternative solutions to restoring cardiac function.
"My main goal is to pursue a master's and a doctorate to integrate research and clinical work to improve health conditions in Third World countries," González said.
Winning an MDC Board of Trustees scholarhip, González maintained a 3.93 GPA while also participating in several service learning projects, including one to build housing, renovate schools and plant organic gardens in Nicaragua.
González will be an intern this summer at Brown University's Medical School. In the fall, he will continue his studies at Stanford University on a full scholarship.
— SA
More Features - MDC Grads Articles