---
Features - MDC Grads
Caring for infants: Ashley Díaz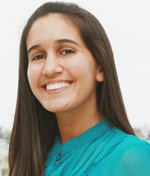 Ashley Díaz
Ashley Díaz's compassionate nature and her younger siblings are the inspirations driving her to become an obstetrician/gynecologist, and it's Miami Dade College that has infused Díaz with the leadership skills she needed to help accomplish her dream.
At an early age, Díaz witnessed the repeated hospital visits of her 10-year-old sister, who was in fragile health as child. Díaz also experienced the emotional turmoil of another family member who was trying to conceive a child. Both incidents ignited in Díaz a heartfelt desire to help care for tha e development and delivery of infants.
With a 4.0 grade point average, Díaz is now graduating with a degree in biology. She was influenced to attend MDC by her boyfriend and fellow graduate Asiel Roque. Together they served in the Student Government Association on the West Campus, where Díaz was vice president. She was also a member of Phi Theta Kappa and the Psychology Society. In addition to these accomplishments, Díaz, partnering with Roque, initiated the student-led Green Team on the West Campus.
Accepted into the University of New Haven and Florida International University's Honor School on a full scholarship, Díaz has chosen to stay close to home and attend FIU in order to help care for her grandparents.
— CJI
More Features - MDC Grads Articles