---
Features - MDC Grads
Mastering all styles: Daniel Rodríguez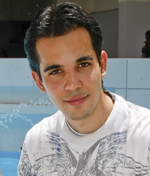 Daniel Rodríguez
Daniel Rodríguez arrived in this country with the goal of excelling as a musician; and if his success at MDC's Wolfson Campus is any indication, then music is indeed a universal language.
A devoted trumpet player, Rodríguez is a recent immigrant from Cuba. Upon his arrival to Miami, he enrolled at MDC and pursued his music studies with a passion, focusing his efforts on the mastering of both jazz and classical styles. He was a participant in the most advanced ensembles of both the Wolfson and North campuses while excelling academically, performing professionally and working a part-time job.
Rodríguez was selected for the student Honors Recital and performed in the top jazz combos, the big band, classical chamber groups, and for the Wolfson production of Cabaret.
He has won acceptance at two of the most prestigious music programs in the world: the Manhattan School of Music and Mannes College: The New School for Music, also located in New York City. Rodríguez was the winner of the only position available at Mannes. Such an honor is surely music to his MDC family's ears.
— TJE
More Features - MDC Grads Articles