---
Features - MDC Grads
Accepting all challenges: Juliette Llado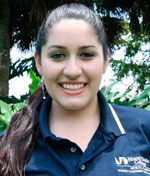 Juliette Llado
While those who know her may not be surprised to see where Juliette Llado is today – a journalism/mass communications major who has earned an Associate in Arts while maintaining a 3.7 GPA – it did not always appear as if this kind of success would one day be hers.
The MDC North Campus Student Government Association president was at one point a high-school dropout who had to take remedial courses upon entering the college. A difficult situation at home led her to repeatedly miss classes in high school. Her grades began to slip, and she eventually dropped out.
In 2007, she enrolled at the North Campus, where she had to take remedial courses in English, reading and math. As she settled into her life at MDC, Llado decided to give SGA a try since she wanted to make a difference in people's lives. She served as senator and director of public relations before running for president for the 2009-2010 school year.
"With SGA, I saw the broader picture of issues," Llado says. Inspired by this new deeper understanding, she worked on her leadership skills and became involved in local charity work.
Llado hopes to one day work in either human rights law or public relations. Having received acceptance letters from several schools, she is currently making her final decision about where to study next, either at Emerson College or Mount Holyoke College. Feeling confident in the education she received at MDC and the skills she sharpened through SGA, she says she knows that she can take on any challenge.
"I'll be ready no matter what," she says.
— TJE
More Features - MDC Grads Articles