---
Features - MDC Grads
Faithfully stepping forward: Kerene Jackson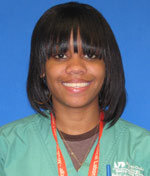 Kerene Jackson
Born in May Pen Clarendon, Jamaica, Kerene Jackson is not the first of five siblings to attend college, but she is the first to graduate. In 2007, after a hurricane devastated the small parish where she lived with her family in Jamaica, Jackson took a leap of faith and boarded a flight to Miami to begin classes at the North Campus.
Although Jackson at first had planned to attend the University of the West Indies, she believes her decision to attend Miami Dade College was definitely the right one.
"A wise man once said, 'Faith is taking the first step even when you don't see the entire staircase,'" said Jackson. "I took that first step, and that has made all the difference. Miami Dade College has become my beacon of strength in so many ways. I have met people and had opportunities here that I only could dream of on my small island."
With an associate degree in clinical laboratory sciences, Jackson now plans to complete her one-year temporary work assignment then return to school to obtain a nursing degree.
"I want to continue college, get a nursing degree and perhaps take it further; maybe medical school to become a family physician."
Jackson, who maintained a 3.65 GPA, said the quality of education and training she found at MDC along with access to outstanding resources have all been eye-opening.
"MDC has really provided the ability to see what goes on in this field,'' she said. "And with the strong connection to local hospitals (Jackson Memorial Hospital), I was able to get hands-on experience."
— TC
More Features - MDC Grads Articles