---
Features - MDC Grads
Building her future: María Villarraga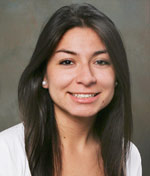 María Villarraga
When students enter the Honors College, particularly as architecture majors, Dr. Alexandria Holloway, the academic dean, warns them that the first semester is grueling – they will not get much sleep and will need to have great time management skills. Not every student makes it. But then again, not every student is like María Villarraga, from MDC's Wolfson Campus.
Villarraga has had an impressive track record as an Honors College student. In the past year and a half, she has completed 55 credits, 23 of which have been honors, while maintaining a 3.93 GPA and taking a 17-credit course load, on average. She has kept up this rigorous academic record while participating fully in Honors College activities and volunteering for the Miami Book Fair International, Hands on Miami and Habitat for Humanity. Villarraga also serves as a mentor with ASPIRA, helping at risk middle school students, and she's an active member of the Student Government Association and Phi Theta Kappa. Aside from her studies, volunteer efforts and student government involvement, she works 20 hours a week as a sales associate at a boutique, a job she believes has helped her improve her communication skills and enabled her to become more responsible and professional.
Villarraga hopes to one day obtain a master's degree in architecture. As she works her way toward that dream, no one doubts that she possesses the motivation, talent, intellect and can-do attitude necessary to succeed.
— TJE
More Features - MDC Grads Articles