---
Features - MDC Grads
Finding his niche: Michael Finch II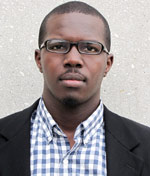 Michael Finch II
From quiet and reserved student to outspoken news editor of the North Campus' award-winning student newspaper, The Falcon Times, Michael Finch II built his confidence at Miami Dade College.
This May, the mass communications major earned an associate degree and has been applying to journalism schools across the country, including the University of Maryland and Drexel University in Philadelphia.
Accustomed to meeting demanding newspaper deadlines, he now has to wait for his favorite colleges to make their decisions. But the determined young journalist is undaunted. Like the motto of the New York Times, he knows his life's work will be writing all the news that's fit to print. "I feel like it doesn't really matter where I transfer," Finch said. "I'm going to be writing for somebody's paper."
Finch wasn't always so certain about his future. Although he was an avid reader, he struggled to learn at Miami Central Senior High School, which was often labeled an "F" school until the recent administration turned things around.
It was his Aunt Betty Bennett who kept him focused. She raised Finch and his two sisters after his mother died of cancer when he was six years old.
At MDC, Finch first majored in sign language, but after picking up a copy of The Falcon Times, his interest shifted.
He began as a staff writer and worked his way up to news editor. The 21-year-old also wrote for The Miami Herald and the Biscayne Times.
"I always knew I wanted to write, but didn't know what journalism was," Finch said. "I've learned more being a part of The Falcon Times than in any class."
— SA
More Features - MDC Grads Articles