---
Features - MDC Grads
Juggling it all: Yarylys Cardentey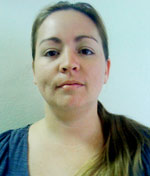 Yarylys Cardentey
Yarylys Cardentey gets a bit uncomfortable when people make a fuss over her. It's because, without much fanfare, the 20-something, Cuban-American prefers to draw attention to helping others.
Cardentey is receiving an Associate in Arts from Miami Dade College's Homestead Campus, and even though it took her 10 years to earn a degree, her days at the College are far from over.
The mother of five children works full time out of her home as a supervisor for the Gear Up program at Homestead Middle School. Cardentey started working in the program tutoring emotionally and behaviorally disturbed children while caring for the needs of her own children and persevering with her studies at the Homestead Campus.
"You have to keep going and eventually it will pay off because your education is the only thing that will give you stability in life," she says.
The first of seven siblings to graduate from college, Cardentey attributes her ability to achieve this goal to her family's support.
Determined to continue her work helping children, she has now set herself on the path to becoming an elementary school teacher and plans to pursue a baccalaureate degree in Exceptional Student Education (K-12) at MDC.
With her children, work and school, she has become an expert at juggling many tasks at once.
Her advice to others trying to master it all?
"If I can do it, anyone can."
— CJI
More Features - MDC Grads Articles