---
Features - MDC Grads
Leading the way: Yoel López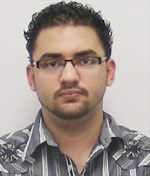 Yoel López
High schoolers' senior year usually is a time of fun and excitement. For Yoel López, it was a year full of challenges. In 2006, he had just arrived from Cuba, could barely speak English and was often teased by other students because he couldn't communicate properly.
"What pushed me to learn the language really fast was the discrimination I suffered,'' he said. "I set a goal to be able to communicate with everybody without a problem."
After graduating from Hialeah Miami Lakes Senior High, he enrolled at MDC's Hialeah Campus in the fall of 2007, completing all six levels of ESL within two semesters.
"I am determined to achieve any goal through hard work, dedication and a positive outlook toward difficulties," he said. "To some it is a challenge, but to me, it is the way to live."
While completing an A.A. in political science, López maintained a 3.79 GPA; won the 2010 All-Florida Academic Team Award; earned a highly competitive internship with the City of Hialeah's Mayor's office; received Hialeah Campus' 2009 Student of the Year for Service Learning Award; led campus clubs, including Phi Theta Kappa and the Student Government Association; and worked part time to support his family. Now he is transferring to the University of Florida to study political science and international relations.
What sets López apart from others, said one of his professors, is his thirst for knowledge and his strong leadership abilities. "He is the consummate team player because he works well with others. Without a doubt, he is an excellent student who will one day become a leader in his community and nation."
— TC
More Features - MDC Grads Articles