---
Academics
St. Thomas Connection Helps Math, Science Majors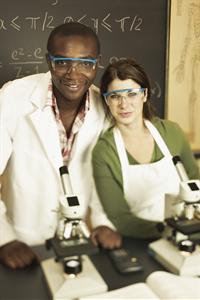 Working with St. Thomas University, MDC is increasing minority enrollment in math and science majors through a U.S. Department of Education grant.
Knox Phillips realizes there is a dearth of minority students in college majoring in science and math.
That's why Phillips, director of MDC's Science, Technology, Engineering and Mathematics (STEM) Connections Grant, visits high schools to recruit minority students, and women, in particular. He tells them what they will need to do to get into college.
Besides working with South Florida's public high schools, MDC has also partnered with St. Thomas University to boost minority enrollment in math and science. The plan is working, thanks in part to an $865,519 federal grant received from a U.S. Department of Education Minority Science and Engineering Improvement Program.
The program is also creating mentoring networks to assist students and faculty at MDC and St. Thomas.
"We highly recommend to our students that they continue their studies at St. Thomas," Phillips said. "They are just three miles from our North Campus, have a new science complex like ours and offer a continuation of services in tutoring and advisement."
Studies show that many minority students face challenges in mastering math and science, which leaves minorities often underrepresented in STEM-related careers.
By 2012, MDC officials hope to increase minority-student participation in STEM subjects by 25 percent.
he STEM Connections program, based at MDC's North Campus, is designed to ease the transition from high school to college.
"Many high-school students say, 'No way!' when they hear the words math and science," said Phillips, who reaches all the way down to ninth-graders to start getting kids interested in considering majoring in science and math in college. "Often, they don't realize the talent they have to master these subjects if they apply themselves."
— WV
More Academics Articles