---
Academics
MDC, UF Team Up for New Degree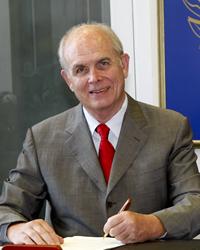 UF President Dr. J. Bernard Machen recently signed a memorandum of understanding between UF and Miami Dade College.
Starting this fall, students can get a Bachelor of Science in Microbiology and Cell Science from the University of Florida without ever leaving MDC's North Campus.
Students will complete their lab work at North Campus' new $40 million Science Complex, which opened in January 2010. The 90,000-square-foot complex includes 21 labs, a botanical garden, a greenhouse and a roof-top observatory. After lab work at MDC, students will finish upper-division UF courses online.
The new program offers many benefits for MDC students, said Dr. Heather Belmont, chair of biology, health, wellness and funeral service education at North Campus.
Making College Affordable
"This gives students tremendous cost savings because they can live at home while working toward their baccalaureate," Belmont said.
To be eligible, students must graduate from MDC with at least a 2.0 overall grade-point average and a 2.5 in core science and math courses. UF will accept up to 72 credit hours of appropriate coursework toward the new degree.
Scholarships Available
The agreement between MDC and UF also provides students with scholarship opportunities to complete upper-division coursework.
UF's microbiology and cell science program is the top-enrolled major for students who continue on to professional schools or graduate programs in the sciences, Belmont said. In addition, the diversity of MDC's student body is attractive to UF, which is working to increase access students have to their university, she said.
— WV
More Academics Articles