---
Cultural Spotlight
Artist Sets Sights on MDC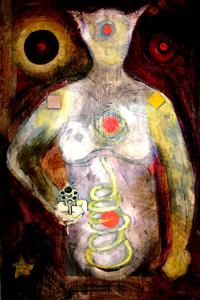 Artist Kristen Tabone Woodward recently launched her "Unclear Intentions" exhibition at the College's InterAmerican Campus.
Miami Dade College's InterAmerican Campus recently hosted the official opening of renowned artist Kristen Tabone Woodward's Unclear Intentions exhibition.
Although Woodward resides in Reading, Pa., and exhibits her work around the nation, she chose MDC to launch Unclear Intentions.
"It's tremendously significant to have had such a great artist share her work with our students and our community," said Dr. Gina Cortés-Suárez, president of MDC's InterAmerican Campus.
Woodward found inspiration for her mixed-media art while researching biblical women to better understand the relationship between gender and the Judeo-Christian tradition. Her investigation evolved into several bodies of work, addressing such diverse issues as reproduction, martyrdom, transformation and temptation.
Combining painting and printmaking, Woodward often uses discarded items that she finds as materials for her collages. In addition to making her own paper from indigenous plants, she has recently worked with paper that previously had other functions, using these pieces to add additional layers to her artwork on both a physical and conceptual level.
In Unclear Intentions, lottery tickets, luggage tags and food stamps suggest faith, hope and charity. Pieces created on paper gun targets juxtapose seemingly disparate images related to organized violence, religion and war. In bringing new meaning to traditional materials and ideas, Woodward challenges those who view her art to rethink the way they see the world, much as the learning environment throughout Miami Dade College encourages students to expand their own intellectual and cultural horizons.
— WV
More Cultural Spotlight Articles