---
Features
MDC Builds Sustainable Future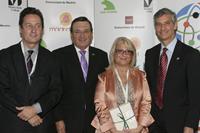 Vicente López-Ibor Mayor, Frank Nero, María-Teresa Costa, Miami Commision Chair Marc Sarnoff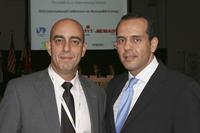 Javier Pérez-Palencia, Juan Verde
Miami Dade College's Wolfson Campus recently hosted business and government leaders from around the world during Only Sustainable, the 2010 International Conference on Renewable Energy.
Organized in conjunction with Madrid Network and Casa de Madrid, and with the collaboration of Enterprise Florida and the Trade Commission of Spain in Miami, the conference featured in-depth discussions and presentations.
The two-day event brought together scores of renewable energy experts and political leaders from the United States, Latin America and Europe, who led panel discussions on current projects and issues ranging from federal legislation in the energy field to the latest developments in solar power, wind power, biofuels and in increasing the efficiency of current technologies and energy usage. They also discussed the social and economic significance of the world's rapidly growing energy sector.
Among the dozens of panelists were Francisco Granados, Madrid's minister of presidency, justice and interior; Beacon Council CEO Frank Nero; Javier Pérez-Palencia, president of Casa de Madrid-Miami; and Ryan Fair, manager of project development with NextEra/Florida Power and Light, to name just a few.
The diverse backgrounds and nationalities of the panelists added depth and breadth to the conference. Experts from the United States noted that Only Sustainable comes at a perfect time, since the Obama Administration is aiming to position the country as the world's leading renewable-energy producer, with the goal of doubling production within the next three years.
The participation of leaders from Europe and Latin America offered valuable insights into how the United States can meet this goal. Spain, for example, has established itself as one of the world's biggest producers of wind power and commercial solar power. In Latin America, market scale and proactive government policies are propelling the renewable energy industry forward rapidly.
The conference goals were well-aligned with initiatives MDC has had in place for years. MDC has taken a leadership role in coordinating collegewide efforts on all fronts, from providing green-jobs training for current students and for professionals already working in the industry to offering environmental literacy courses to students of all majors and encouraging the development of environmental curricula.
— NM
More Features Articles