---
Making Their Mark
Innovative STEM Program Wins Chancellor's Award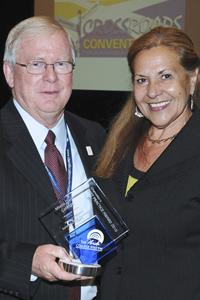 Florida College System Chancellor Dr. Will Holcombe presents Dr. María I. Garcia with the Best Practices Award.
For the third year in a row, Miami Dade College has earned a prestigious Best Practice Award. The most recent honor was bestowed upon MDC by Dr. Will Holcombe, the Chancellor of the Florida College System, at the 61st annual Florida Community Colleges Convention, held recently in Jacksonville.
MDC, which earned one of only three awards given out in the academic-affairs category, was recognized for the innovative Project V-Coach Summer STEM Academy.
Led by Dr. María I. García, the Academy at MDC aims to awaken students' interest in science, technology, engineering and mathematics fields, which are also referred to as STEM courses.
The project is definitely working, as improved test scores for students taking STEM classes have indicated.
"This year's winners exemplify the importance our colleges have placed on training students in the math and sciences," Holcombe said. "STEM education plays a critical role in enabling the U.S. to remain the economic and technological leader of the global marketplace for the 21st century."
In 2009, MDC was recognized for its program designed to keep students from dropping out of college. The program, called First Year Academic and College Life Experience (FACE), uses social and thought-provoking activities to foster an environment that encourages healthy academic and interpersonal development for students. And in 2008, MDC was lauded for its use of interdisciplinary learning communities.
"The Best Practice Awards give much-deserved recognition to these exceptional programs," Holcombe said. "It allows our colleges to learn from proven strategies that will raise the level of performance for the entire system."
— WV
More Making Their Mark Articles