---
Making Their Mark
Start-Up Founder Found Calling at MDC Honors College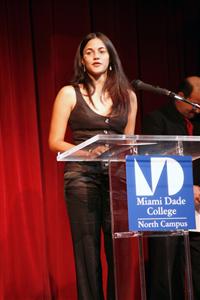 Diane Melville
Diane Melville credits MDC's Honors College with giving her the courage she needed to pursue her dream of becoming an entrepreneur.
While at MDC, Melville studied biomedical engineering and was on track to becoming a reconstructive plastic surgeon. But her professors sensed her passions were elsewhere.
"The Honors College is where I learned to put my fears of the future aside," she said. "It was there that I started to really think about what I wanted to do. I liked medicine. I was good at it, but I didn't know if it was my passion.
"My dean, Dr. E. Carter Burrus, who has since retired, said: 'Are you sure you want to be a doctor? I have a feeling you want to be something bigger.'"
After graduating from MDC, Melville studied pre-med at Tulane University for three months before finally deciding to make the switch. She returned to MDC to take business classes before moving on to work on her degree at Babson College, which is renowned for its business program.
"Change is no big deal to me," Melville said. "I changed schools, changed majors, changed careers. The Honors College and Dr. Burrus taught me to focus on a strong foundation. If my foundation was strong, then all the other changes were manageable."
Backed by that strong foundation, Melville started her own company, called ScholarPro. Using an Internet portal, the Chicago-based company has created innovations in the application and distribution process of scholarships and private financial aid, helping students more readily find the financial resources they need to pursue the education of their dreams.
"I am the founder of a start-up, and my life is my company at this point," Melville said when asked how many hours she works per week. "Every time I am doing something other than working on my company, my company doesn't move forward. It's a scary thought – but motivating as well."
— WV
More Making Their Mark Articles