---
Making Their Mark
Professor's Nudge Led to National Scholarship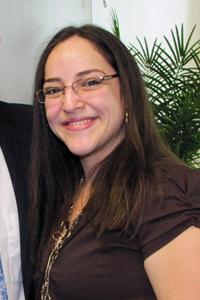 Jessica Giraldo
Jessica Giraldo, an MDC student pursuing a degree in paralegal studies, recently won a national scholarship for her essay on using paralegals and paralegal students for pro-bono legal services.
"I didn't want to enter originally because I didn't think I could possibly win a national competition," Giraldo confessed. "But my advisors at MDC encouraged me. They said: 'Well, you can only win if you enter.'"
Giraldo followed their advice and now has a scholarship from the National Federation of Paralegal Associations (NFPA) and Thomson Reuters, a renowned publisher of education materials.
The once-timid, now-determined future lawyer also won a trip to NFPA's annual convention.
"I got to meet and network with paralegals from all over the country and discuss the advancement of the profession," Giraldo said. "It was rewarding."
MDC has the only American Bar Association-approved Associate in Science degree program in paralegal studies in the county. At MDC, Giraldo has served as president of The College's Society for Law and Community Service. She is also a Paralegal Studies Advisory member.
In addition, Giraldo has volunteered to preserve the Miami-Dade County Law Library, to combat domestic violence and to work on community-service projects. She also serves as a Florida Bar Liaison for the South Florida Paralegal Association.
"The law and helping the community are two things I believe in, and I want to keep going," she said.
— PUR
More Making Their Mark Articles