---
Making Their Mark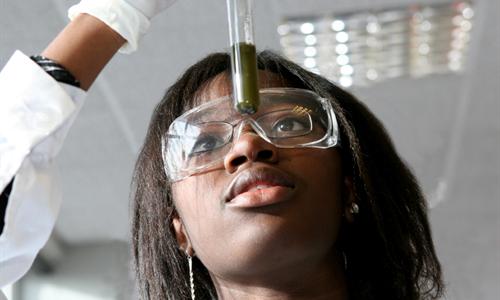 Students Share Research With National Science Foundation
On a recent trip to Washington, D.C., students from Miami Dade College's Wolfson Campus were able to share data from their research projects with other members of the scientific community, creating far-reaching networking opportunities.
During the industry conference, the students received advice from the National Science Foundation (NSF). The students' projects were sponsored by an NSF grant called Biotechnology Research Learning Collaboration (BRLC).
Dr. Guillermina Damas, chair of the Natural Sciences, Health and Wellness Department at MDC's Wolfson Campus, is proud of her students.
"Their poster presentation and research were incredibly well done," Damas said. "It was exciting to get this kind of feedback from their peers in the scientific community. This type of research is usually not found at a community college but a higher level."
The BRLC goal was to provide high-level interaction in peer-to-peer environments, particularly in the sciences and among minority students. The MDC student researchers – Katherine León, David Riera and Matthew Parker – saw this as a golden opportunity for improving their investigative skills. They conducted their research under the supervision of Dr. Edwin Gines-Candelaria and Professor Juan Morata.
"This experience provided the students with a sense of what their future careers will entail," Damas said. "This has cemented their enthusiasm in STEM (Science, Technology, Engineering and Mathematics) related careers."
In the two-year implementation of these projects, eight science majors were recruited and trained in various stages of research and industrial experience.
Added Damas: "The training the students received has generated a group of independent workers that would proudly integrate into the scientific and industrial communities."
— WV
More Making Their Mark Articles