---
Features
Chinese Culture Comes to Life at MDC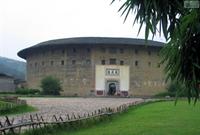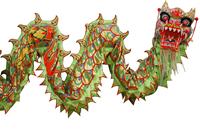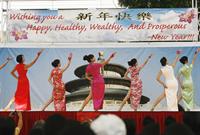 The Confucius Institute at Miami Dade College held events on several campuses to celebrate the Chinese New Year. Singers, dancers, acrobats, drummers and a parade of dragons festively opened the Year of the Rabbit.
The prestigious Confucius Institute and the Office of International Education at MDC recently hosted "Hakka Castle Dwellings," a lecture conducted by Dr. Keith Lowe at the North and Kendall campuses. Co-sponsored by North Campus' Student Life Department and MDC's School of Architecture, this was the first of many lectures planned for the new Confucius Institute Lecture Series.
Designated by UNESCO as a World Heritage Site, the Hakka Castle Dwellings are exceptional examples of traditional buildings designed for communal living and defensive purposes in rural China. Exploring the historical and cultural significance of this wonder, Lowe's lecture focused on the tulou, or rounded earth castles common to the mountainous Hakka region in China's eastern Fujian Province.
Lowe, who has done extensive research on the subject, is a descendant of the Lowe clan of Hakka, which devoted three generations to building a magnificent walled villa in the Shenzhen region of China. Completed in 1817, the Crane Lake New Residence villa was converted into the Museum of Hakka Customs in 1996.
"We are honored to have an authority like Dr. Lowe grace us with this insightful and fascinating lecture on such a unique example of China's cultural and historical patrimony," said Dr. Xuejun "Jim" Yu, director of MDC's Confucius Institute.
The new lecture series further develops the Confucius Institute's mission of bringing together people from diverse international backgrounds through a wide range of cultural exchanges and events.
Included among these activities have been the Institute's recent collaboration with the Florida Grand Opera (FGO) to help them celebrate the opening of their 70th season by providing traditional Chinese folk music, showcasing the art of Chinese drama "Face Changing" and displaying a stunning collection of costumes from the Peking Opera for FGO's "Night of the Golden Dragon Gala" at the Adrienne Arsht Center for the Performing Arts. In addition, the Institute recently held Chinese New Year's celebrations at the Wolfson, Kendall and North campuses, where the College joyfully leaped into the Year of the Rabbit in what promises to be another 12 months packed full of great cultural events.
— HP
More Features Articles