---
Features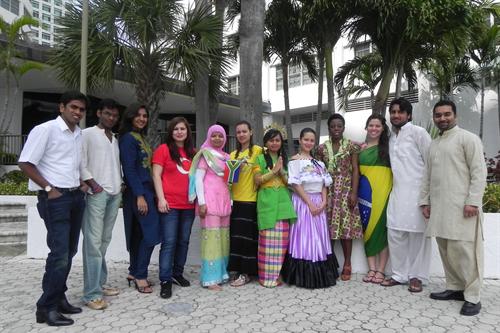 Consortium Students Bring New Perspectives to MDC
Twelve students from eight countries that are underrepresented at U.S. colleges and universities have flocked to Miami Dade College as part of a new Community College Consortium (CCC) program. Bringing new perspectives from their homes in India, Indonesia, Brazil, Costa Rica, Pakistan, Turkey, South Africa and Ghana, they have shown that diverse cultures do not have to clash; instead, beautiful things can happen when people from different backgrounds work together.
The Community College Consortium, administered by the Community College Initiative Program with support from a U.S. Department of State grant, is being held at four top U.S. colleges: MDC, Northern Virginia Community College, City College of San Francisco and Arizona's Maricopa Community College District.
Small Group, Big Impact
The students, who arrived in June and are staying until May, have had an impressive impact on life at MDC and in South Florida. The program is "half skills building and half cultural immersion," according to Leeza Fernand, the coordinator of the grant at MDC. "The students have fundraised for floods in Pakistan and the earthquake in Haiti. They have planted trees locally at Oleta State Park and continuously participate in community outreach."
All studying business, these students come from regions not normally represented at MDC, or around the United States. About half of the program participants are from Islmaic nations. The diversity has been mutually beneficial, said Eva Fernández, MDC's International Education programs manager.
"They will change the perspective of America from the outside and will be able to help their own countries as future leaders," Fernández said.
Early Benefits
The program, which will run for at least two more years, has already led to a direct benefit to MDC, said Jane Anne Williams, MDC's executive director for International Education. One of the students, Zhunnuraeni "Eni" Baharuddin, is helping MDC set up a study abroad program near Jakarta, the capital of her homeland, Indonesia.
The students are always busy, actively immersing themselves in college life. They have visited Arizona as part of the consortium. They are involved in student government. They volunteer locally. They each are taking up to 30 credits of classes. And they all will visit the nation's Capitol this spring.
Commenting on the great mix of people in the group, Fernand said, "We call them 'Team Zabardast,' " which means "awesome" in Urdu, one of the official languages in Pakistan and parts of India.
"And this group is truly amazing," she added.
— JD
More Features Articles